Wheel Stops – protecting vehicles, property and walkways
Whether you have high kerbs or parking close to buildings, wheel stops are the perfect solution to prevent accidental damage to vehicles, buildings, kerbs and landscaping.  The professionals at Viking Linemarking and Hotmix Paving Services are your one-stop solution for car park maintenance and offer a full supply and installation service for wheel stops including
High visibility rubber wheel stops
High visibility rubber wheel stops
Our high visibility rubber wheel stops are made from durable recycled rubber and are built to last.  Suitable for indoor and outdoor applications they are built tough to withstand years of usage and the harsh Australian climate.
Compliant with AS2890.1.2004 our rubber wheel stops are supplied in the standard size of 1650mm x 160mm x 100mm.  With hi-visibility yellow markings, they will not chip or crack and offer a cost-effective solution for bitumen or concrete car parks.  Rubber wheel stops being a much lighter material than concrete offer substantial installation savings when compared to concrete which requires a two-person install and lifting equipment due to their weight.
Concrete wheel stops
Concrete wheel stops are an ideal heavy-duty solution to keep cars separate from buildings, walkways and kerbs. Steel reinforced and with bevelled edges they can withstand high impact. Made from sturdy 40mpa concrete, they come in 1700mm long and taper up to 1650mm at the top to comply with AS2890.1.2004.
The expert team at Viking line marking can not only supply and install concrete wheel stops but can paint them in safety yellow or any other colour to suit your requirements.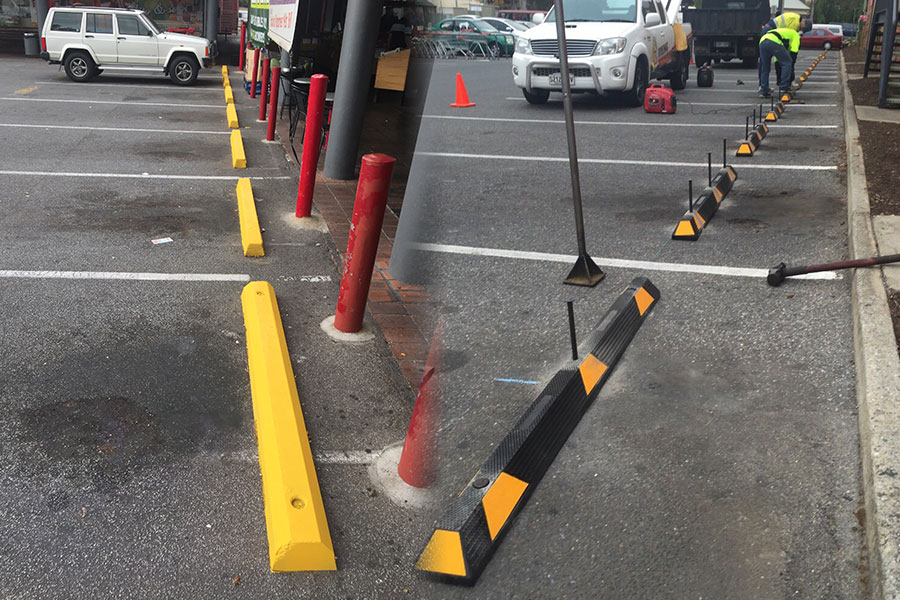 Rapid turnaround supply and installation of car park wheel stops
Viking Linemarking is committed to offering exceptional customer service, and we're the people to call if the job is small.  Whether it's a single wheel stop replacement or multiple parking bays you'll get the same excellent service, attention to detail and quality workmanship.
We make dealing with us easy – just one phone call to Viking Linemarking and Hotmix Paving Services, and we can take care of all your car park maintenance needs including wheel stops, bitumen repairs, bollards, speed humps, line marking, signage and concrete grinding or brick paver levelling to minimise trip hazards.  We'll be on site within 48 hours to inspect your job, and you'll have your quote within 24 hours.
As the preferred car park maintenance contractor of numerous Adelaide based commercial property managers, retirement villages and leisure complexes, we understand your time pressures.  To help ease this, we not only provide a rapid response team but we also issue high-resolution colour photographs of all of our work so you can inspect the quality of the job from the comfort and convenience of your office.

As Adelaide's most responsive bitumen contractor you can rely on us to be on site within 48 hours to inspect your job