Viking Linemarking – Bollard supply, installation & repairs made easy
As part of our commitment to offering exceptional customer service and a one-stop solution for car park maintenance, the expert team at Viking Linemarking will supply, install and replace car park bollards.
Whatever bollards you require we have you covered, we can supply and install an extensive range of high quality, durable bollards of various heights, diameters and colours including,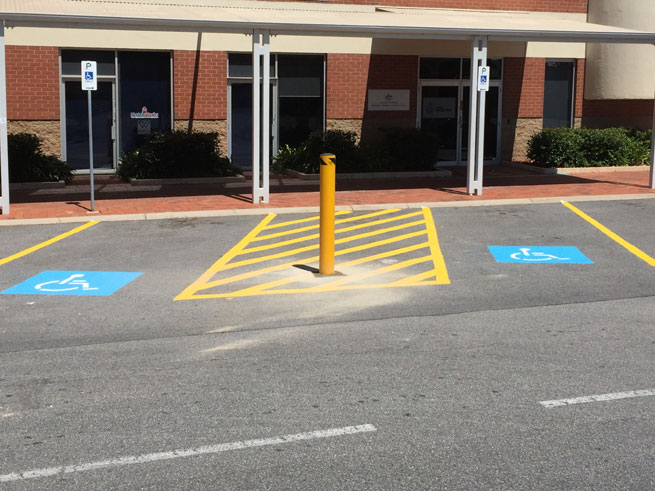 Inground bollards
A permanent safety solution to keep pedestrian areas and parking areas separate and safe, or prevent vehicular access to an area.
Removable bollards
The perfect solution to create a flexible, non-permanent safety/entry barrier between two areas.  These bollards are ideally placed in front of storage areas or lockups to deter entry during non-working hours while providing easy and unrestricted access during working hours. 
Fold Over Bollards
The best solution to ensure that nominated parking spots are not used by other vehicles.  With a key lock or padlocking system, these bollards can be raised to prevent unauthorised use of designated parking bays and quickly folded over to provide immediate access.
Surface Mounted Bollards
A permanent safety solution to prevent vehicular access where an inground solution is not required or feasible.
Disability Bollards
We are always up to date with the latest safety rules and regulations regarding disabled parking bays and can supply complaint bollards to bring your disabled parking bays in line with current legislation. 
Your one-stop solution for supply, installation and repair of car park safety bollards and disability bollards across Adelaide.
Imagine a typical scenario, your property inspector has called to say one of the bollards in a car park has been damaged/hit and needs replacing. Usually, this simple request involves calling 2 – 3 individual contractors – maintenance contractors to remove the bollard, order its replacement and install it, bitumen contractors to prepare the ground and repair the damage caused, and finally a line marker to reinstate any lines that may have been taken out during the repair.  Let us take the stress away and save you the time and hassle of all the phone calls.  Call Viking Linemarking on 0402 846 933 and will take care of everything. 
Viking Linemarking offers a complete car park maintenance solution including bitumen repairs, speed humps, line marking, wheel stops, bollards, trip hazards and signage.  All our services are owned and operated by one family, there's no subcontractors or no sub-contractors' mark-ups, and just one person to call for a fast, friendly and complete suite of car park services at prices you can afford.
Car park bollards to your exact specifications
Designing a car park and have engineers' plans? Car parks are our sole focus; our experienced professionals will supply and install bollards to your precise specifications along with any signage, speed humps, wheel stops and line marking required.     
We'll make sure you keep your schedule on plan, and you can rely on us to be on site at the time we say we will.  As a dynamic business, we understand that sometimes things don't run to plan, so we are set up to be flexible if your schedule overruns call us and we'll make every effort to fit seamlessly into your new evolving schedule.
Viking Linemarking invests in extensive training for all operatives, so we are always up to date with the latest safety and car parking regulations.  Thorough, professional and experienced our team of installers will get your bollards installed with maximum efficiency and minimum downtime.

As Adelaide's most responsive bitumen contractor you can rely on us to be on site within 48 hours to inspect your job