Viking Linemarking – making carpark maintenance and management easy
Viking Linemarking was set up alongside our Hotmix Paving Services in 2008 as part of our commitment to offering the full suite of carpark maintenance services to commercial property managers, maintenance managers, retirement villages and leisure complexes.
Whatever commercial property you manage – shopping centres, schools, retirement villages or leisure complex's you can rely on us for a thorough and speedy maintenance solution.
We'll take care of all your line marking requirements and any bitumen repairs, wheel stops, bollards, signage and concrete grinding / paver levelling to minimise trip hazards. 
With a rapid response team, we can be on your site inspecting your job within 48 hours of your call, and no job is too small, we are here to make your car park maintenance seamless and stress-free.
Working seven days a week we are always available to take your call, and as the preferred car park maintenance partner of many large commercial property managers you can trust us to safely and accurately get the job done.
Experience you can trust & service you can count on –
As Adelaide's best line marking service, our line markers have undertaken extensive training over the years.  As a company, we have made a significant investment in the latest plant and equipment to ensure we can get the job done efficiently and accurately while adhering to the latest Australian safety and transport standards.
Our experienced operatives think on their feet and pay attention to all the finer details to ensure that we deliver a quality job from start to finish.  From new works to resprays our line marking services include,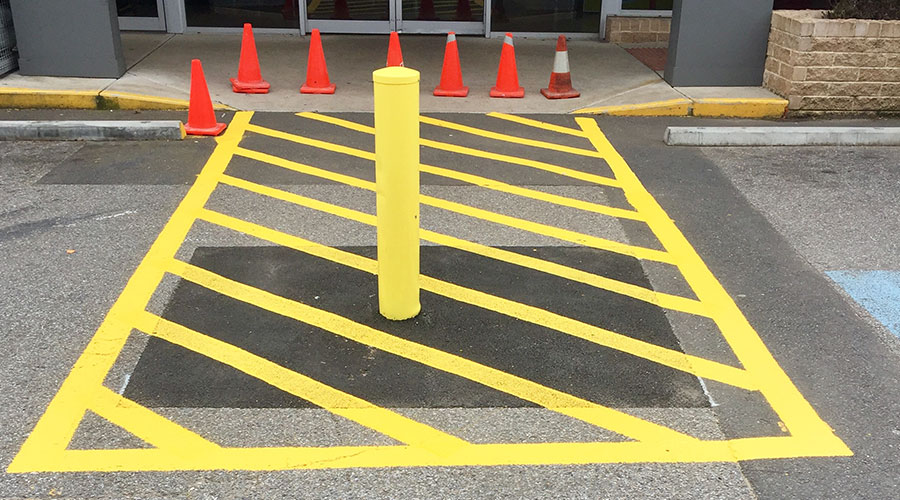 Line marking – car parking lines
You give us the car park design plans, and we will take care of the rest – setting out and line marking to your custom specifications.
Line marking - lettering & stencilling
With all the latest equipment and stencils, we can create designated parking areas, eg. Pram park, loading zone, small car parks, seniors park, disability parking logos, directional arrows, timed parking areas etc. Letters or numbers – you name it, and we can stencil it.
Line marking - cross-hatching /zones
We can create cross-hatching to identify different zones such as loading zones, crossings, walkways, no parking zones etc
Line marking - speed humps
Not only can we install your bitumen speed humps, but we can take care of line marking them too.
Line marking - re-sprays
If your car park lines looking worn and faded, we can take care of reinstating your lines for increased visibility.
Line marking - pavements and walkways
Let us take care of any footpaths and walkway lines and messages.

As Adelaide's most responsive bitumen contractor you can rely on us to be on site within 48 hours to inspect your job