About Hotmix Paving Services & Viking Linemarking
Car Park maintenance -One call and we can take care of it all
Hotmix Paving Services is an Australian family owned and operated business, and as fourth-generation bitumen contractors, there's not much we don't know about bitumen. However, in recent years we have moved away from large scale road surfacing projects to specialise in small to medium bitumen / asphalt repairs and maintenance jobs.
With the larger bitumen companies being set up for high volume large projects, we saw the need for a bitumen contractor who offered a more personalised service, specialising in high quality, rapid turnaround small to medium sized maintenance and repair jobs. With the large-scale contractors being tied up on huge projects it could take weeks for a contractor to get on site for a small repair and that's where we stepped in to help.
We are the people to call when the job is small as we specialise in offering rapid turnaround bitumen maintenance and repairs including
Asphalt / Bitumen Pothole Repairs
Asphalt / Bitumen Patch Repairs
Going the extra mile to deliver exceptional customer service
With our trusted experience, expert workmanship and exceptional customer service our business steadily grew, and now we are the preferred bitumen maintenance contractor for many large commercial/retail property managers all over Adelaide.
As our reputation for quality, reliability and service grew, our clients asked us to take on more and more of their car park maintenance works.  Always going the extra mile to deliver exceptional customer service we set up the Viking Linemarking business alongside our Hotmix Paving Services to cater for non-bitumen car park maintenance needs. 
Viking Linemarking have invested heavily in training and equipment over the last 15 years and are now proud to offer the full range of carpark maintenance services including
Line marking and respraying
Supply and Installation of bollards
Supply & Installation of wheels stops
Supply & Installation of carpark signage
Concrete grinding to reduce trip hazards
Brick/paver levelling to reduce trip hazards
Dynamic & Responsive
If you manage a shopping centre, office complex, leisure complex or retirement village let us take the stress away from your car park maintenance.
We know and understand the potential hazards and dangers of a poorly maintained car park so you can rely on us to be on your site, to inspect your job, within 48 hours of your call. We can attend to most problems within 72hrs so you can rest assured that a small maintenance issue can be resolved before it becomes a large-scale problem.
To minimise downtime and maximise efficiency we are available seven days a week and where possible will work through the night to get your job done with minimum disruption to your day to day operations. When you need a fast and easy solution for all of your car park maintenance needs you need Viking Linemarking and Hotmix Paving Services.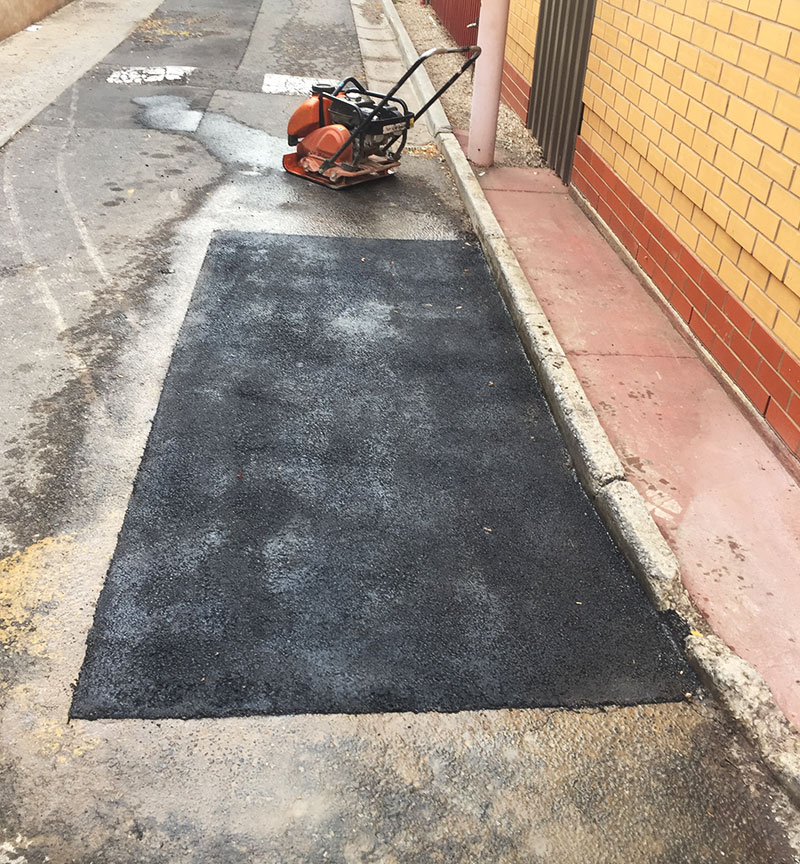 To get the job done quickly, efficiently and with minimum fuss, you can rely on us!
CALL 0402 846 933 to find out more